GASME World Leaders Camp in Europe
GASME World Leaders Camp, led by Mr. Frank Cao, Secretary-General of GASME and Chief Representative of US-China Exchange Association China Office, visited Germany, Belgium and France from July 28
th
to August 8
th
, 2016.
During the ten-day trip, our delegation met Ambassador Schaefer and Prof. Goldstein in Munich, an industrially advanced city in southern Germany and explored the development of the automobile industry in Wolfsburg, an Automobile City in northern Germany. In Osnabrück, a City of Peace in Germany, the delegation was deeply impressed by the brilliant speeches delivered by President Wulff and Mayor Griesert. On the 7th day, the delegation came to Brussels in Belgium where the EU headquarters is located, to exchange ideas with Prof. Hans-Gert Pottering, former President of the European Parliament. "It's a wonderful and meaningful trip! I learned a lot." said a delegation member at the end of the trip.
The delegation arrived in Munich, Germany on the morning of July 29th. Dr. Michael Schaefer, former German Ambassador to China and Chairman of the Board of BMW Foundation Herbert Quandt had a face-to-face exchange with delegation members in BMW World. Ambassador Schaefer introduced the mission of the BMW Foundation and its exchange programs. He said that a good leader should be aware of his own shortcomings, shoulder more responsibilities for the future and take multiple perspectives to see problems.
On the afternoon of July 29th, the delegation arrived at University of Munich, the top university in Germany. Prof. Andy Goldstein, Managing Director of the Entrepreneurship Center at University of Munich shared his experience on how to start a business. Prof. Goldstein pointed out that ideas, funds and talents were not necessary for starting a business. What you need most was your mouth. Starting a business was from your month! At first, you needed to tell others that you were planning to do it and then devote yourself to your business. This was what really counted. With multiple questions and examples, Prof. Goldstein's humorous speech has deepened the understanding of starting a business of all the delegation members.
On the morning of August 2nd, the delegation came to Osnabrück, the "City of Peace" in Germany and also the hometown of Mr. Christian Wulff, Global Chairman of GASME and former President of Germany. Mayor Griesert warmly welcomed and received the delegation. German journalists also participated in the reception. Delegation members had a deeper understanding of and more admiration for this city after Mayor Griesert's introduction to the history of Osnabrück and its important status in Europe. Secretary-General Cao delivered a speech on behalf of the delegation. "Thank you very much for your great support and kind arrangement, President Wulff and Mayor Griesert" he said, "China and Germany are the two great nations in the world with a very close relationship and great potential for cooperation. China-German relationship is conducive to promoting China-EU relations, as well as relations between China and other developed countries. Nowadays, the trade volume between China and Germany accounts for one-third of the total trade volume between China and Europe, and equals to the sum of the trade volume between China and Britain, China and France, and China and Italy. I believe that China and Germany will have greater potential for cooperation with the comprehensive integration between German Industrial 4.0 and Made in China 2025."
President Wulff delivered a speech on the China-German Relationship, Five Secrets of Entrepreneurs' Success and German's Spirit of Craftsman, and had a Q&A session with delegation members. President Wulff pointed out that with the economic integration around the world, the urgent task is to help students develop strategic thinking, creativity, innovation, and problem solving ability, so that they are better prepared to make contributions to business and society as future leaders.
After the speeches, President Wulff awarded the certificate to Secretary-General Cao as his China Affairs Advisor.
On the morning of August 4th, the delegation came to Brussels, Belgium, where the EU headquarters is located. Prof. Hans-Gert Poettering had a deep communication with the delegation members. Prof. Poettering gave a detailed introduction to his 35-year work in the EU, the long history of EU development and the construction of House of European History. Beginning in February, 2007 and with more than 9-year construction, House of European History will finally open on November 17th this year. "To build the House of European History is one of the most difficult projects, and also one of the most meaningful projects in my political career," said Prof. Pottering, "the purpose of building the Museum is to make everyone, especially young people, remember the tragic history, understand the great suffering of war to the people, let them keep in mind the hard-earned peace and try their best to avoid repeating the tragedy."
The delegation was made up of 35 young entrepreneurs and middle school students mainly from the Yangtze River Delta region.
Economic globalization and the "Belt and Road" construction call for business leaders who can lead economic development around the globe. With its Consultative Status with UNIDO, GASME aims to nurture business leaders through the Institute for Global Business Leadership. Starting in 2016, GASME will launch World Leaders Camp annually, organizing middle school students, college students and young entrepreneurs to Europe, US, Africa, Japan, South Korea, South America, ASEAN and South Asia to have face–to–face exchanges with political, business and academic leaders to help students get better prepared to become future business leaders.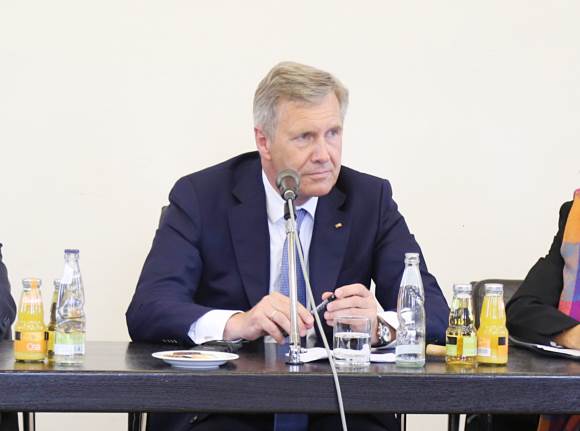 President Wulff exchanged ideas with the delegation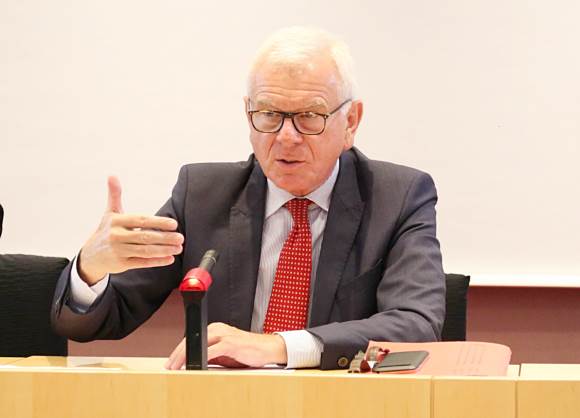 Prof. Poettering exchanged ideas with the delegation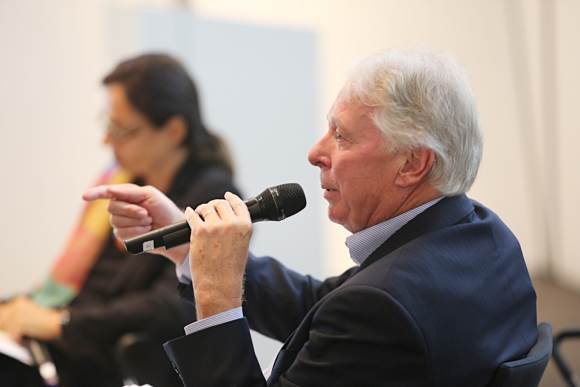 Dr. Schaefer exchanged ideas with the delegation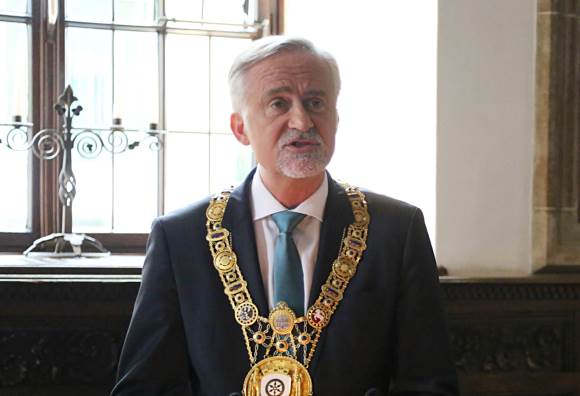 Mayor Griesert delivered a welcome speech on the reception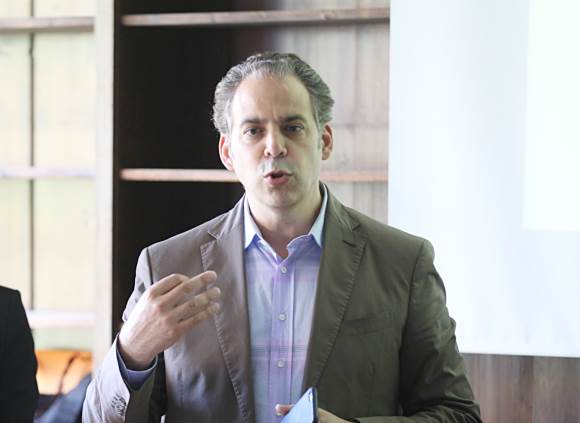 Prof. Goldstein exchanged ideas with the delegation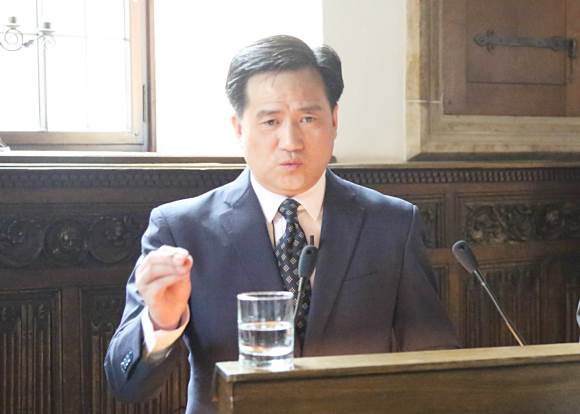 Secretary-General Cao delivered a speech in the Hall of Peace of Osnabrück government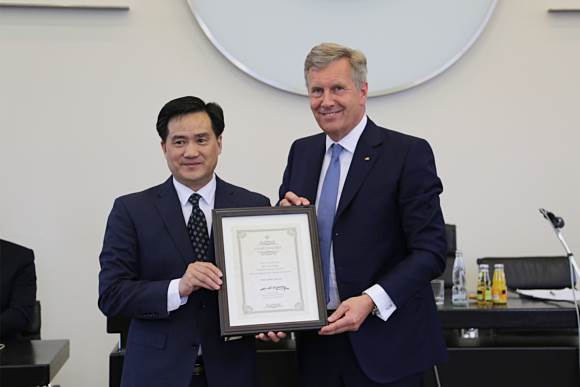 President Wulff awarded the Certificate of China Affairs Advisor to Secretary-General Cao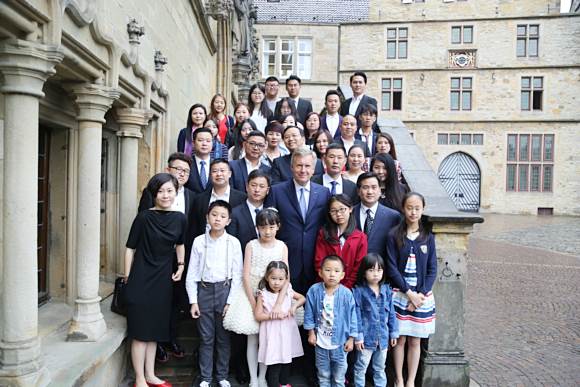 Group photo taken in front of the government building in Osnabrück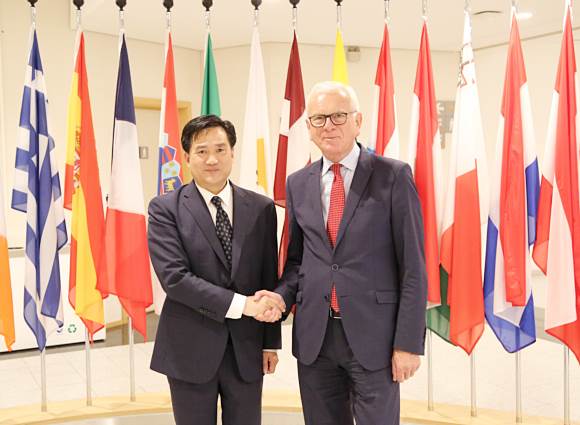 Prof. Poettering and Secretary-General Cao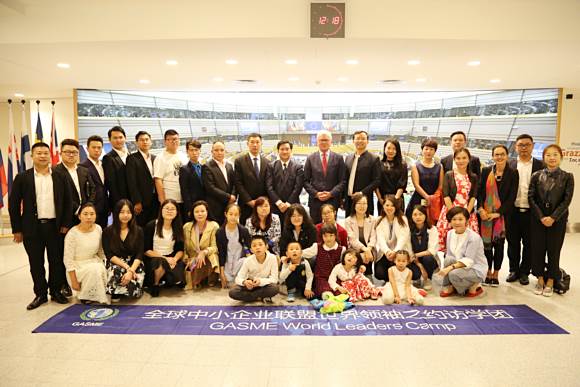 Group photo taken in the European Parliament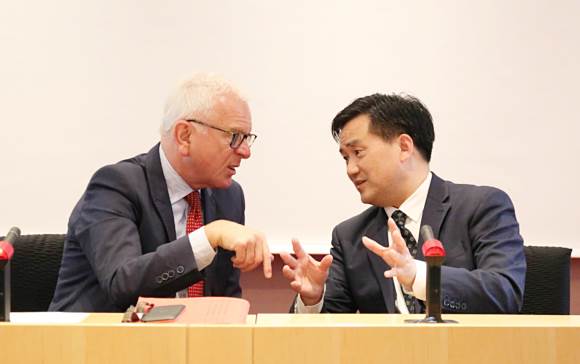 Prof. Poettering communicated with Secretary-General Cao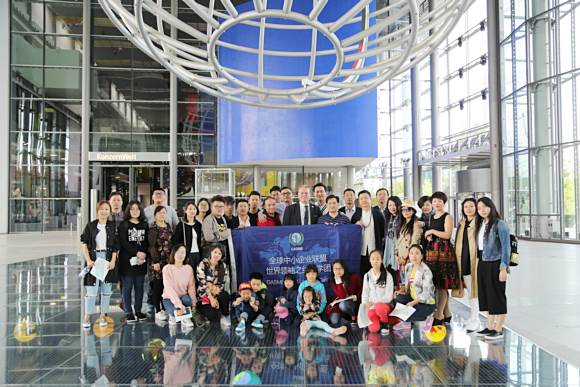 Group photo taken in Volkswagen Autostadt